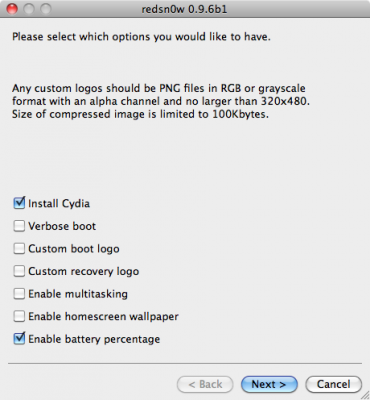 DevTeam recently released new version of redsn0w to jailbreak iOS 4.1. New RedSn0w 0.9.6 b1 supports iOS 4.0 and iOS 4.1 running on iPhone 3G or iPod touch 2G.
There is only Mac OS X x86 version, that you can download here.
Redsn0w is easy to use:
Download firmware here.
Launch redsn0w 0.9.6 b1
Select your stock 4.1 or 4.0 ipsw (you've already used this to update your device to 4.1 or  4.0)
Select "Install Cydia" and any of the other options shown above, then click "Next".  Use DFU mode to install the jailbreak.
As usual DevTeam reminds us:
IF YOU USE THE ULTRASN0W UNLOCK, PLEASE WAIT FOR PWNAGETOOL TO SUPPORT 4.1.  DO NOT USE REDSN0W
That's because to use redsn0w at 4.1, you need to already have updated to official 4.1 from Apple.  If you do that, you lose the ultrasn0w unlock (possibly forever).

Read the rest of this entry »