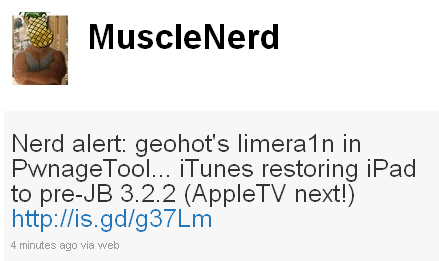 MuscleNerd from DevTeam has posted a video preview of the new PwnageTool upcoming release. The new PwnageTool will use Geohot's Limera1n exploit and will let users who need unlock to obtain it. Here's MuscleNerd message from twitter:
Nerd alert: geohot's limera1n in PwnageTool… iTunes restoring iPad to pre-JB 3.2.2 (AppleTV next!) http://is.gd/g37Lm
Let's watch the video:
The release of PwnageTool is scheduled for this Sunday.

Read the rest of this entry »