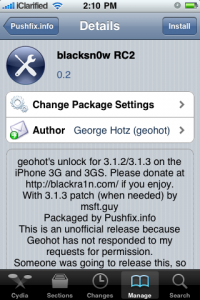 The BlackSn0w Unlock utility by Geohot has been updated by MSFTGuy and PushFix to work with the latest firmware 3.1.3. However it works only with baseband 05.11.07 (!!!).
This modified version of BlackSn0w works for iPhones upgraded with PwnageTool or Sn0wbreeze, preserving the baseband version 05.11.07. Users who have updated to OS 3.1.3 by any other method have the 05.12.01 baseband so BlackSn0w and UltraSn0w will not work.
This new version of BlackSn0w will be very useful for iPhone 3GS OS 3.1.3 / Baseband 05.11.07 users who can't downgrade to earlier versions but still need unlock.
According to iHackintosh, this new version also fixes a small bug making WiFi much more stable.
Blacksn0w RC2 will be available on ModMyi repo soon. If you don't want to wait just add the source http://cydia.pushfix.info/ to Cydia and install it now.
Important: Blacksn0w for 3.1.3 is still in RC stage and there may be some issues or bugs. This is not an official update performed by Geohot, who has clearly indicated that he will not be updating any tools for the 3.1.3 firmware.

Read the rest of this entry »